December 13, 2020
We want to continue our efforts to conserve trout waters in Rabun County. Our team welcomes your help. While you are out fishing, if you see areas that could be improved or re- paired, such as erosion problems, stream siltation, streamside or in-stream trash, feel free to take pictures, identify the issue and location, and send the information to Justin and me. Our team will look into the issue, discuss with BOD, and see if it's something we can remedy, or encourage our managing agencies to do so. Working together, we can all conserve the great water resources that make us proud to live, work, and play here!
Team Leader- Steve Perry: email- flygide@gmail.com. Cell- 828-371-1633
Assistant Team Leader- Justin English: email- trouter10@hotmail.com Cell- 706-490-5032
October 8, 2020
"Heavy Metal, Fish-head Bangers and Passing on Genes: Tails from the Smokies"
Tuesday, Oct 20 at 7:00 pm
To be held using Zoom video conferencing.
Veteran Rabunites will recall Matt's excellent program to us at Tallulah Gorge State Park years ago. We learned about native brook trout restoration and some hot Smokies fishing tips for specks, bows, and browns.
Matt returns, albeit virtually, to update us on Smokies fish communities, ongoing research, and those valuable fishing tips once again. He oughta know, for he cheats, too, with electrici- ty! His agency's annual fish population samples don't lie when it comes to trout abundance and sizes.
All fans of your national park's great trout fishing don't want to miss another super program by Matt. So Zoom in at 7pm on October 20 and get the skinny on the Smokies from veteran bi- ologist Matt Kulp.
To Join the Zoom Meeting—Click Below and Enter the Meeting ID and Passcode
https://us02web.zoom.us/j/3424822877?pwd=cDlFdkpzSmR0Zyt1TmRzV0o1SDZmdz09
Meeting ID: 342 482 2877 Passcode: 9kpE08
May 14, 2020
The Rabun Chapter recently donated funds to help pay for a new kiosk to be located at the Burrells Ford Bridge, near the trailhead to Ellicotts Rock. The kiosk will encourage visitors to practice "Leave No Trace" outdoor recreation.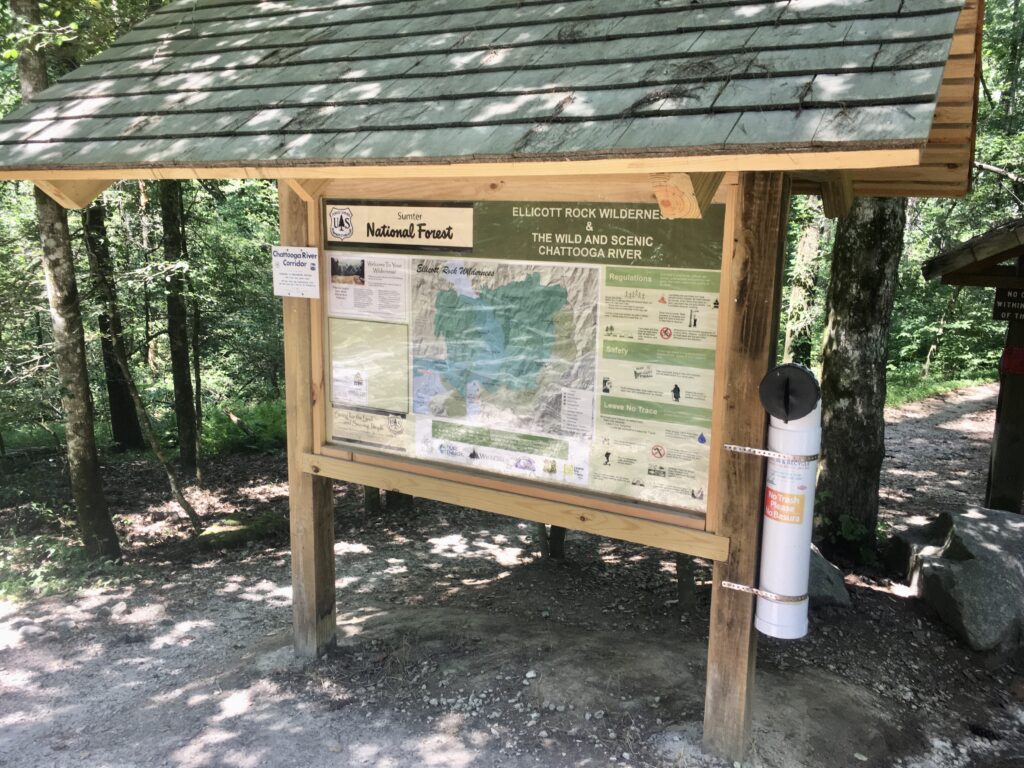 May 12, 2020
June 16 (Tues) Rabun Chapter Monthly Meeting is Canceled due to the COVID-19 pandemic.
September 11, 2019
Burton Trout Hatchery Begins Renovation, Visitor Hours Change
For the first time in 70 plus years, the Lake Burton Trout Hatchery raceways are empty and dry, and the last of the trout has entered North Georgia streams or been transferred to other trout hatcheries. But, why? The hatchery is preparing for a renovation, according to the Georgia Department of Natural Resources' Wildlife Resources Division.
"The Lake Burton Trout Hatchery was built in the 1930's, and is long overdue for a renovation in order to continue serving the angling public," says WRD Fisheries Biologist Anthony Rabern. "This large-scale project will temporarily alter the availability of the area for the public, but ultimately will allow us to utilize new technologies to further enhance trout pro-duction."
April 1, 2019
A popular stocked trout stream in Rabun County, Wildcat Creek, will have its trout stock- ings delayed for several weeks this spring due to the closure of Wildcat Creek Road. The US Forest Service has closed this road due to a landslide that occurred this winter.
The US Forest Service has indicated that the public can still walk the road to fish and camp but, for safety reasons, it will remain closed to vehicles for a short period while repairs are made. CLICK HERE to find more information regarding road closures on the National Forest.
GAWRD's scheduled weekly trout stockings will resume when the road is repaired and reopened to the public. Need more trout info? CLICK HERE.
John Lee Thomson
Trout Stocking Coordinator GAWRD – Lake Burton Hatchery 706-947-1508
April 1, 2019
Once again, Mack Martin of the Atlanta Fly Fishing School has graciously donated a custom- built fly rod and reel to the Rabun Chapter to be used for fund raising. Thank you, Mack!
This year the rod is a four piece, 8' length, 3 weight Winston AIR fly rod. Mack says "I have one and it feels like a feather in my hand!" The reel is a TFO BVK 1 Large Arbor reel.
Raffle tickets cost $3.00 each or four tickets for $10.00. The drawing for the rod and reelwill be held Tuesday, July 16 at the Chapter Family Cookout at Kelly's Water Park.
See Pat Hopton or any Board of Director member to purchase tickets.
February 4, 2019
Congratulations, Monte!
Rabunite Monte Seehorn, retired USFS fisheries biologist, was recently inducted into Southern Trout's "Legends of the Fly" Hall of Fame! The ceremony was held Friday, Feb 1 at 4:30 pm at the Atlanta Fly Fishing Show.
Pretty impressive for a crusty Old Fart!
December 3, 2018
For complete rules and details visit www.georgiatu.org.
"The 2019 Dream Trip reaches new heights. The opportunity to fish with John McGarity, stay in his fabulous log cabin conveniently
located between the Madison River, Yellowstone National Park and the Henry's Fork puts you smack dab in the middle of some of the most
famous trout waters in North America. John is the consummate trout angler, fishing almost every day during the 5 or 6 months each year
he resides in Idaho. Blue Ribbon Flies in West Yellowstone checks with John for fishing reports. Having been a restauranteur, John is also an
excellent cook… you will not go hungry on this trip! TU couldn't ask for a better host and guide for this year's Dream Trip."
-Jimmy Harris, owner, Unicoi Outfitters
• 5 days hosted fishing / 6 nights lodging in Idaho July 21 – 26, 2019
A float trip on the Madison River is in
• Each winner receives: A float trip on the Madison River, plus Choice of Winston BIII-x or Air 4, 5, or 7 weight rod, a fly reel with
Scientific Angler line, and a fly box and flies for the trip (Approx. 5-7 dozen per box)
October 9, 2018
Rabun Resident Elected to Chair State Council of Trout Unlimited
In the recent annual leadership election for Trout Unlimited, Dr. Kathy Breithaupt of Rabun County was elected as the Council Chair for Georgia Trout Unlimited.
Dr. Breithaupt has been an active member of the Rabun Chapter of Trout Unlimited and currently acts as secretary of the chapter. Previously she was secretary for the Georgia Council and, more recently, held the position as Vice-Chair. In addition, she is the founding Coordinator for the Georgia Trout Camp, a week-long camp for boys and girls from all over Georgia and other states that has operated for the past fifteen years.
The Georgia Council is the umbrella organization for all twelve chapters of Trout Unlimited in Georgia. The Council supports all chapters with their 4000 members and coordinates efforts to meet the mission of protecting and restoring cold, clean water in Georgia and throughout our country.
Dr. Breithaupt is the first female to chair the State Council and one of just a very few nationwide to hold this position. Trout Unlimited is a national conservation organization founded in 1959 that now boast over 150,000 members throughout the country.
For more information visit www.georgiatu.org.