June 2, 2023
Good food, good friends, perfect weather and one excited lady angler!
Chapter Prez Tammy Hopton held the winning ticket at the Chapter's annual July 11 family picnic that she won the raffle for Mack Martin's custom-built Winston 3-weight fly rod!
The rod raffle brought in more than $1,800 to support our programs. That's a new record. We can't thank Mack enough for his generosity in crafting and donating such a beautiful trout tickler to our Chapter.
The winning prize consisted of a custom-built Winston AIR Fly Rod – 8′ Length, 4-Piece, 3 Weight with cloth rod sleeve and aluminum rod tube. The rod was made for the Rabun TU #522 Chapter by Mack Martin, Atlanta Fly Fishing School. Included with the rod is a TFO BVK SD 1 Large Arbor Reel, Scientific Anglers 20 lb (100 yards) Dacron Yellow Backing and Royal Wulff "Triangle Taper Plus" TTP3F PLUS IV/Willow Green 90 ft. Fly Line (Taper – 36 ft., Running Line 54 ft.
January 8, 2023
"The 2023 Dream Trip reaches new heights. The opportunity to fish with John McGarity, stay in his fabulous log cabin conveniently located between the Madison River, Yellowstone National Park and the Henry's Fork puts you smack dab in the middle of some of the most famous trout waters in North America. John is the consummate trout angler, fishing almost every day during the 5 or 6 months each year he resides in Idaho. Blue Ribbon Flies in West Yellowstone checks with John for fishing reports. Having been a restauranteur, John is also an excellent cook… you will not go hungry on this trip! TU couldn't ask for a better host and guide for this year's Dream Trip."
-Jimmy Harris, owner, Unicoi Outfitters
5 days hosted fishing / 6 nights lodging in Idaho July 23-28, 2023
$500 total in travel expenses – travel arrangements will be the responsibility of the winners. *Fishing licenses, gratuities, and alcoholic beverages will be the responsibility of the winners during their stay.
Each winner receives: A float trip on the Madison River, plus choice of Winston AIR 3 wt. – 6 wt. or BILL-x 4 wt. – 8 wt. fly rod. Fly reel with Scientific Anglers or Winston Energy Fly Line and a fly box and flies for the trip. (approx. 5 -7 dozen per box)
View the flyer for more information and to purchase tickets!
June 1, 2022
Are you ready for "RENDEZVOUS-LITE"? The online auction site is up and running. Preview of the auction items will run from May 27th, through the end of the day on May 30th, Memorial Day.
Beginning May 31st, the auction will be live and accepting bids from the 31st of May through the end of the day on June 7th.
The online event is not designed to replace our traditional "Rabun Rendezvous" held each year in January at the Dillard House. This event is designed to provide some funding to allow our Rabun TU chapter to continue our efforts in supporting Trout Unlimited and its mission.
Please help by visiting the site and actively participating in the online event. The members and friends of Rabun TU thank you for your participation and continued support.
https://go.tulocalevents.org/4be2af/Campaign
For more information, contact:
Ray King, Rendezvous Chair
121 Creek Road
Otto, North Carolina 27863
Home:  (828) 349-2786
Cell:  (828) 342-9563
rayking@frontier.com  (Home)
rking@tektone.com  (Work)
April 30, 2022
RABUN TU ONLINE AUCTION Dates: May 17, 2022 thru May 24, 2022
Spring is upon us and O'Dark Thirty fishing is just around the corner. It's been an unusual year and live events are starting to "spring" up everywhere. As discussed earlier in the year, the Rabun TU Board of Directors opted for staying safe.
We will be having an ONLINE AUCTION using the same format as seen on the Dream Trip Ticket site and other TU chapter sites around the state and country.
We're finalizing the site set–up now and will critique the set–up over the next few days before starting live. The site will be available on or before May 9th to allow public viewing of items currently listed. This will run through the May 16th. During that time, we'll also be adding items if new donations are received. Continue to visit during the early period to view items and see what may have been added! You won't be able to bid on items until May 17th, when the auction actually goes live. Bidding will end on May 24.
REMEMBER: 2022 RENDEZVOUS "ONLINE AUCTION" GOES LIVE MAY 17TH!!
CAN YOU STILL HELP??
Absolutely! We can always use additional items to make the event as successful as possible. Items can take the form of trips, lodging packages, artwork, sculpture, fishing items, e.g., rods, reels, flies. We have talented individuals who create fantastic handmade crafts. Please put your talents to work for the Rabun Chapter of TU.
Tell your friends about the auction. Word of mouth is some of the best advertising we can receive.
Donations! This is one area in which you can still help. Donations can take the form of trips, lodging packages, artwork, sculpture, fishing items, e.g., rods, reels, flies. The list of items is not limited to just those suggested above. We have talented individuals who create fantastic handmade crafts. Please put your talents to work for the Rabun Chapter of TU.
Some examples received to date are as follows, that will help get your creative juices flowing:
SMITHGALL WOODS – 3 Bedroom Cottage Getaway for one night! This includes access to Catch and Re- lease fishing while relaxing in the beautiful North Georgia Mountains.
UNICOI STATE PARK AND LODGE – 2–night lodging at the UNICOI lodge. CUSTOM LANDING NET crafted by RON WILSON
CUTOM BUILT "BAMBOO FLY ROD", 6' 6", 3–Weight, with 2–tips, rod sack and metal rod tube, by BILL BEACH
5
FRAMED PRINT OF the COLEMAN RIVER (BLACK & WHITE), Donated by STEVE PERRY, "RABUNITE"
FRAMED PRINT – "GARDEN OF THE LIONS", Measures 25&1/2" x 43", Donated by STEVE PERRY,"RABUNITE"
DUKE'S CREEK FISHING TRIP FOR TWO (2) ANGLERS ON THE PRIVATE WATERS OF DUKES' CREEK IN WHITE COUNTY, GA. Donated by the Doug Adams family and Pat & Tammy Hopton
UNICOI OUTFITTERS FISHING TRIP ON 1.5 MILES OF PRIVATE WATER AT NACOOCHEE BEND. Donated by UNICOI Outfitters, Jake Darling, Manager
CUSTOM SKINNER KNIFE & SHEATH. Donated by Dean English, RABUNITE
TEMPLE FORK OUTFITTERS PRO ii, 5 wt., 9' four–piece rod with rod sock and case; NTR–II Machined 6061–Y6 Aluminum Sealed Drag Reel. Donated by Mack Martin, Atlanta Fly Fishing School
FISHPOND THUNDERHEAD SUBMERSIBLE CHEST PACK. Donated by Reeves Outdoors, Clayton, GA. There's a lot more!
To help advertise the items, you can help by sending a photo and writing a brief description of the item, and sending them in so we can get them posted. Send the information in a .jpg photo format or a word / text document. We can always help "wordsmith" to aid in describing the item.
BTW – Separate listing with photos and descriptions coming!! Please list a minimum bid, if you have an idea!
Tell us who sent the item in and provide us with your contact information! How we can get the item so that it's available to deliver to the winning bidder!
Help us in advertising for the Virtual Rendezvous. Tell your friends, send out emails, help us generate and distribute flyers!
My contact information is below. Please send me information on possible items and I'll be glad to work on getting the item listed and obtained so we can distribute to the winning bidder. We have a great group of "seasoned gophers" who are willing to help collect items and get them to a central location.
RAY KING
RENDEZVOUS CHAIR
121 CREEK ROAD
OTTO, NORTH CAROLINA 27863
Home: (828) 349–2786 Cell: (828) 342–9563
rayking@frontier.com (Home) rking072074@gmail.com rking@tektone.com (Work)
6
November 7, 2021
Are you ready to Go TROUT Fish Georgia? Beautiful weather and fantastic scenery await you in the northern part of the state, and beginning in November, trout fishing on Georgia's delayed harvest trout streams will be in full swing, according to the Georgia Department of Natural Resources' Wildlife Resources Division (WRD).
While trout fishing can be found year-round in Georgia, there are five trout streams that are seasonally managed under special regulations called Delayed Harvest (DH) to increase angler success. These streams have catch-and-release regulations from November 1-May 14 and are stocked monthly by WRD and other partner agencies like the U.S. Fish and Wildlife Service and South Carolina DNR. This combination of stocking and catch/release allows for good trout catch rates and high angler satisfaction.
This year, four delayed harvest streams will be stocked with trout. These streams include:
• Toccoa River located on U.S. Forest Service land upstream of Lake Blue Ridge in Fannin County (from 0.4 miles above Shallowford Bridge to 450 feet above the Sandy Bottom Canoe Ac- cess).
• Amicalola Creek on the Dawson Forest Wildlife Management Area (from Steele Bridge Road downstream to Georgia Hwy. 53).
Smith Creek downstream of Unicoi Lake (Unicoi State Park).
A portion of the Chattooga River (from Ga. Hwy. 28 upstream to the mouth of Reed Creek)on U.S. Forest Service land bordering South Carolina.Georgia Trout Stocking Coordinator John Lee Thomson commented, "In an effort to provide ex- cellent opportunities at the other DH sections, and due to current low trout inventories, anglers should note that stocking the delayed harvest section of the Chattahoochee River below the Mor- gan Falls dam will not be able to take place this year."Between November 1 – May 14, anglers on all traditional delayed harvest streams are restricted to single hook, artificial lures. Beginning May 15, the general regulations to designated trout wa- ters then apply to those streams.
3
December 13, 2020
We want to continue our efforts to conserve trout waters in Rabun County. Our team welcomes your help. While you are out fishing, if you see areas that could be improved or re- paired, such as erosion problems, stream siltation, streamside or in-stream trash, feel free to take pictures, identify the issue and location, and send the information to Justin and me. Our team will look into the issue, discuss with BOD, and see if it's something we can remedy, or encourage our managing agencies to do so. Working together, we can all conserve the great water resources that make us proud to live, work, and play here!
Team Leader- Steve Perry: email- flygide@gmail.com. Cell- 828-371-1633
Assistant Team Leader- Justin English: email- trouter10@hotmail.com Cell- 706-490-5032
October 8, 2020
"Heavy Metal, Fish-head Bangers and Passing on Genes: Tails from the Smokies"
Tuesday, Oct 20 at 7:00 pm
To be held using Zoom video conferencing.
Veteran Rabunites will recall Matt's excellent program to us at Tallulah Gorge State Park years ago. We learned about native brook trout restoration and some hot Smokies fishing tips for specks, bows, and browns.
Matt returns, albeit virtually, to update us on Smokies fish communities, ongoing research, and those valuable fishing tips once again. He oughta know, for he cheats, too, with electrici- ty! His agency's annual fish population samples don't lie when it comes to trout abundance and sizes.
All fans of your national park's great trout fishing don't want to miss another super program by Matt. So Zoom in at 7pm on October 20 and get the skinny on the Smokies from veteran bi- ologist Matt Kulp.
To Join the Zoom Meeting—Click Below and Enter the Meeting ID and Passcode
https://us02web.zoom.us/j/3424822877?pwd=cDlFdkpzSmR0Zyt1TmRzV0o1SDZmdz09
Meeting ID: 342 482 2877 Passcode: 9kpE08
May 14, 2020
The Rabun Chapter recently donated funds to help pay for a new kiosk to be located at the Burrells Ford Bridge, near the trailhead to Ellicotts Rock. The kiosk will encourage visitors to practice "Leave No Trace" outdoor recreation.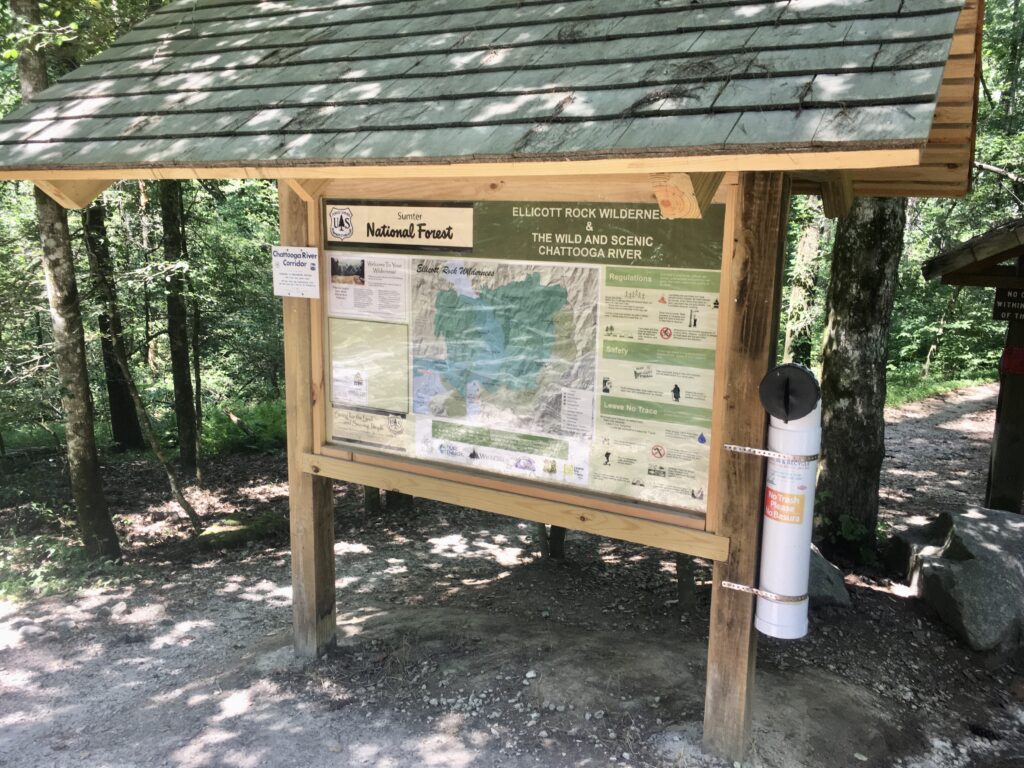 May 12, 2020
June 16 (Tues) Rabun Chapter Monthly Meeting is Canceled due to the COVID-19 pandemic.
September 11, 2019
Burton Trout Hatchery Begins Renovation, Visitor Hours Change
For the first time in 70 plus years, the Lake Burton Trout Hatchery raceways are empty and dry, and the last of the trout has entered North Georgia streams or been transferred to other trout hatcheries. But, why? The hatchery is preparing for a renovation, according to the Georgia Department of Natural Resources' Wildlife Resources Division.
"The Lake Burton Trout Hatchery was built in the 1930's, and is long overdue for a renovation in order to continue serving the angling public," says WRD Fisheries Biologist Anthony Rabern. "This large-scale project will temporarily alter the availability of the area for the public, but ultimately will allow us to utilize new technologies to further enhance trout pro-duction."