Conservation
Read a history of the Chattooga Coalition
Read about Rabun TU's involvement in cleaning up Stekoa Creek, a major tributary into the Chattooga River
Read about the Chapter's involvement in restoring the Eastern Brook Trout to local waters
Combining Recreation and Conservation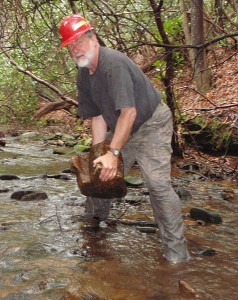 Rabun TU often combines a chapter camp-out with a work project.

View the work projects photo gallery
Click here for more about chapter work projects
Rabun TU has developed a close working relationship with the U.S. Forest Service, the Georgia Department of Natural Resources, and other local groups to support conservation efforts for local public coldwater fisheries and their watersheds with hands-on volunteer labor.
Award-Winning Work
In 1992, the USDA Forest Service presented the Chapter a "Certificate of Appreciation" for its volunteerism, and Rabun TU recieved the Chapter Silver Trout Award in 1989. Members of the Rabun Chapter have also received national recognition for their conservation work. TU awarded its Professional Conservationist awards to Rabunites Monte Seehorn in 1988 and to Jeff Durniak in 2006, its Distinguished Service award to Doug Adams in 2004, and its Youth Education Leadership award to Kathy and Charlie Breithaupt in 2007.
Rabunites Clean Stekoa Creek in Clayton, June 2010
On June 26, 2010, a dozen Rabunites put on waders and rubber gloves and tackled a dirty job. The group got in the polluted Stekoa Creek in Clayton, Georgia, and cleaned up a stretch from McDonald's up to the Indoor Flea Market.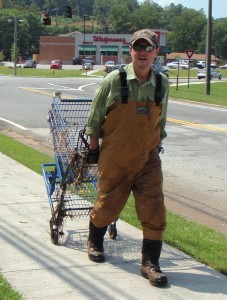 When asked the purpose, project leader Chris Whitley said, "The national Trout Unlimited organization initiated a stream clean-up program to improve troubled waters and to draw attention to areas of need". Our Chapter chose Stekoa Creek because it needs a lot of help. "It's sad to have such a polluted stream going right thru the heart of our county," said Rabunite Charlie Breithaupt.
"The good news is that TU and several other organizations are pitching in with their time, money and resources to bring attention and improvement to Stekoa Creek. I actually think that someday Stekoa Creek will become an asset instead of a liability to our community," Breithaupt said.
The Rabun TU Chapter would like to thank all the landowners along Stekoa Creek who gave permission for access to accomplish the clean-up, to the County for allowing us to deposit the trash at the recycle center at no charge, and for those who volunteered.
View photos from the workday in the work projects gallery.
Please see the calendar below right for details about upcoming Rabun TU work projects.