How to Speak Rabunite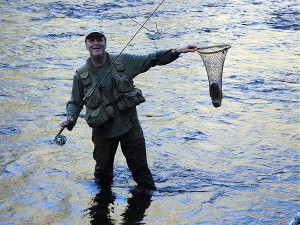 A Flatlander and a Rabunite meet in the parking area at THE RIVER about dark-thirty. The Flatlander asks, "Did you have any luck?" To which the Rabunite replies, "Shonuf did – lucky to be here on THE RIVER today."
"I mean any luck fishing?"
"Hadda couple of raisdums so I switched to a tandum rig — ya know, a tractor-trailer rig. Then had three burndums and upcapped a couple more. Got below a bug factory just when the switch went on. Then I hipolum three gooduns and invited them to dinner. They wuz dumplins, all sidewinders and drifters. It's OK to eat them. They're like Doritos; the hatchery will make more of em. WAAaah WHOooo! Knowhutimean??"
A foreign language? No, not really. You have heard of "street wise" and "street slang"? Well, this is kinda like that. Rabunites talk in "RIVER slang."  To help you converse with Rabunites you encounter, here is a glossary of terms:
Flatlander – resides south of Tallulah Falls
Rabunite – usually a member of Rabun TU
raisdums – the fish just came up to look and went back down
tandum rig – 2 flies
tractor-trailer rig – attractor fly with a wet fly or nymph on a dropper
burndums – definite contact with the fish
upcapped – fish getting off before netting or fondling
bug factory – shallow water over a cobble bottom on a slight gradient
switch went on – trout feeding frenzy begins
hipolum – immediate removal of the fish from the water
gooduns – any trout, Flatlanders call them "NICE FISH"
invited them to dinner – put them in the creel
crispy critter – A small trout (usually 7 inches or less) fried golden brown and eaten bones and all!   Yum-Yum!
fodder – A whole mess of crispy critters.  Fodder of brookies is the main staple diet of Rabunites when West of Hiawassee.
dumplins – freshly stocked trout dumped from the bridge
sidewinders – stock trout with some fins missing
drifters – stock trout with all of its fins missing
churning butter – When playing a wild brown trout and it rolls showing that beautiful 'butter' colored underbelly, the angler tells his partner it is "churning butter," meaning it's a wild brown trout.
earning its wings – When playing a trout and it jumps and goes airborne (usually a rainbow trout), the angler tells his partner the trout is "earning its wings."
bronze wings – for one airborne jump
silver wings – for two airborne jumps
gold wings – for three airborne jumps
platinum wings – for four airborne jumps
a ruby – it earns one ruby for every jump in excess of four
Example: A trout that jumps airborne 6 times has earned platinum wings with 2 rubies.
A Few Other Rabunite Terms
fondling – handling trout for a "grip and grin" picture
horsum – identified by a piece of fish lip on the hook
brokoff – a defective hook or a tree in the wrong place
defective knot – a broken tippet with a little "pigtail" on the end
chopper – trout stocked by a helicopter
keeper – same as GOODUN
Georgia nymph – a cricket; you know like, "Jiminy Cricket"
passenger train – using 3 or more dry flies at one time
freight train – using 3 or more wet flies or nymphs at one time
haulin heavy freight – adding sinkers to a freight train
pig farm – a stream where the trout are fed trout chow
gold is where you find it! – discovering seldom fished trout waters
Dr Pepper fishing – Remember the old Dr Pepper advertising slogan: "10, 2 & 4"?  An angler (usually a flatlander) who starts fishing about 10 AM, takes a lunch break at 2 PM, and quits at 4 PM is said to be on the Dr Pepper fishing schedule.  Then in the parking lot the Dr Pepper angler often tell the Rabunite just getting ready to start fishing: "You are wasting your time, they need to stock more trout in here!"
got your thermometer wet – When you and your partner are wading wet and one of you wades in deeper than his crotch, the partner says: "I see you got your thermometer wet."  Then he might ask: "Just how cold is it?"  The answers can vary greatly!
West-of-Hiawassee – more good places to fish, like the 'DREAM TRIP'
Where? – "I don't believe I said." (I.D.B.I.S.)
To get into the Rabunite Camp, here are the answers to the admission quiz:
1) Q: What's the best trout fishing spot in GA?
A: Alongside a Rabunite
2) Q: What's the worst?
A: Behind a Rabunite
If you are quizzed on the Rabunite terms and correctly score:
90 – 100%: Master Angler or a Rabunite Guide, soars with the Ospreys
80 – 89%: Accomplished Angler, Fishes with a Rabunite Guide
70 – 79%:  Typical Angler, Fishes Behind the Rabunite Guide
60 – 69%: WannaBe Angler, Watches others fish while carrying lunches & cameras
Less than 60%: Just a plain ole 'Flatlander'
"Fishing is life. The rest is just details."
— The Ole Rabunite