September 13, 2015
Where: The "New" Dillard House Conference Center, located behind the Dillard House in Dillard, Georgia
Who: The more the better. Everyone interested in protecting our cold water resources, including their families, friends, and all who love clean, cold streams, trout, and trout fishing.
Social: About 5 o'clock PM folks will start gathering to "pick the pig" and enjoy the rocking chairs on the porch of the Conference Center. There will be snack trays of cheeses, crackers, veggies with dips, and fruits. Soft drinks and ice will be available. If you want something stronger, better bring it yourself. (BYOB).
There will also be a fire inside to warm your buns. The Foxfire Boys with their famous bluegrass music will begin at 5 pm.
Dinner: Fish, chicken, and pork with all the side dishes and desserts that have made the Dillard House so famous will be served about t6:30. It's a serve yourself buffet, so you will not leave hungry.
Cost: $33 for adults, $25 for those under age 15. Cash, checks, VISA, or MasterCard. We don't do advanced tickets; just pay at the door.
Lodging:
The Dillard House has set special rates for rooms starting at $69 (plus tax) for those who call and tell them you're attending the Trout Unlimited Rabun Rendezvous.Call 706-746-5348 or toll free at 1-800-541-0671.
Check out the Dillard House website here
. Also Mountain Aire Cottages on North Main Street in Clayton is giving special rates for TU folks. Call them at 706-782-9568.
You can view their website here
.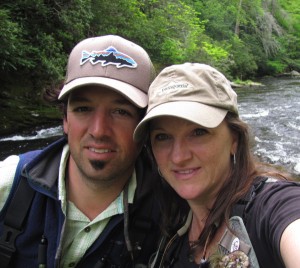 Program presenters:
Ian and Charity Rutter, R&R Fly Fishing. Ian and Charity are based in Townsend, TN. They offer premier guide services specializing in the Great Smoky Mountains and East Tennessee and have published five books on "Fishing the Smokies." They are great presenters and highlight their programs with beautiful photography and video. Come spend the evening with Ian and Charity.
Please click on the link here
to find out more about R&R Fly Fishing.
September 13, 2015
Dec. 8 (Tues) Christmas Dinner
Rabun Manor starting at 6pm. Dinner will be at 6:30 PM. The cost is the same as last year, $25.00 per person plus tax & gratuity. We will have a open Bar. Our dinner will consist of two appetizer choices, three entrée choices, and two dessert choices. Please make your reservation with our Prez, Steve Perry by phone at cell- 828-371-1633 or by email at flygide@gmail.com! Don't miss out on this great meal and fellowship time with other Rabunites.
September 13, 2015
Nov. 4 – 8 (Wed – Sun) FALL CAMPOUT!! Kathy Breithaupt coordinating. Will need volunteer chefs for each breakfast and supper meal. Meal's will be $5.00 per person per meal.
We'll camp at Oconee State Park just across the Chattooga River in SC…near the DH section of the Chattooga which begins on Nov 1st.   Site reservations can be made on line.  We'll cook and eat together for breakfast and supper beginning Wednesday, Nov 4th with supper.  Last meal…Sunday (Nov 8) breakfast. You're on your own for lunch.  Our main campsite will be #82. http://southcarolinaparks.reserveamerica.com/camping/map_of_Oconee/r/campgroundMap.do?contractCode=SC&parkId=10321&selectedSiteRb=3924
So far we have the following meals planned:  Breakfast Thursday…Jimmy Whiten & Phil Upchurch;  Supper Thursday…Larry Walker;  Friday supper…Kathy & Charlie;  Sunday breakfast…Kathy & Charlie
We need to have the following meals covered: Wed supper; Friday breakfast; Sat breakfast; Sat supper.   If you are coming and willing to prepare a meal, please let us know.  If you are coming just to eat let us know so we can have an accurate head count for each meal.  If you eat but don't cook, you will owe $5/meal to the cook.
To reserve your place at the table for any meal please email us @ …..  knc615@windstream.net
Please let us hear from you as soon as possible so we can finalize our plans. It's always a good time.
See you on the river!
Contact Kathy at knc615 (at) windstream.net , or at 706-782- 6954.
September 13, 2015
Oct. 15 (Thurs) Regular monthly meeting. Details of meeting to come.
September 13, 2015
Sept 26 (Sat) Go ahead and get it on your calendar to save the date for Outdoor Adventure Day at Unicoi State Park !
September 13, 2015
Sept. 19 (Sat) "Tie-1-On" Bass Pro Shop. Volunteers needed. Contact Terry Rivers.
September 12, 2015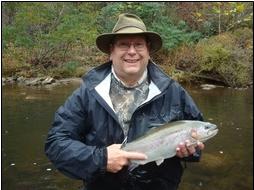 Nov. 19 (Thurs)  Regular monthly meeting, still at Rabun Gap Presbyterian Church. Social starts at 6:30 and Meeting at 7 pm. This month we have a presentation from a Rabunite favorite Steve Hudson.  Steve has an awesome new program he will be sharing with us called "The Line on Leaders." Every flyfisher uses leaders, and there are many different types to choose from. But which leader is the best one to use? What length? What size? What type? And how to do set up that leader once you've made your choice? This program will answer those questions. We'll explore the pluses and minuses of various leader types, and we'll see how to set up leaders for a variety of fishing situations. We'll even look at how you can make several different types of leaders yourself! Don't miss out on this very informative meeting.  Bring and item and a dollar or two for our monthly raffle.