July 8, 2020
June 8 (Sat). Tallulah River Kid's Fishing Event. 8:00 am at Tallulah River Campground.
POSTPONED UNTIL SEPTEMBER 26
March 4, 2020
March 4, 2020
Apr 21 (Tues) Scouts Appreciation Dinner and Fishing Event. Fishing begins at 4:00 pm, supper begins at 6:00 pm. Indian Lake Picnic Area at Rabun Gap-Nacoochee School. Contact Jimmy Whiten.
Mark your calendars for the annual Scout Cookout which will be held on April 21st at Indian Lake on the campus of Rabun Gap Nacoochee School. The scouts in attendance will not only enjoy grilled hotdogs and hamburgers, but also an opportunity to hone their angling skills while working up and appetite. We always have a great time with our local scouts who bring high energy, big appetites and lots of enthusiasm with them.
March 4, 2020
Due to concerns around the COVID-19 pandemic, this program has been canceled. Please contact Michele Crawford at mcrawfordtu@windstream.net for more information
Saturday April 18
10:00 am—3:00 pm at the Delayed Harvest section of Smith Creek, Unicoi State Park. See pages 4 and 5 for more information. Contact Michele Crawford or Tammy Hopton.
Calling All Ladies!
The Rabun Chapter Trout Unlimited Ladies Fly-Fishing Clinic is the perfect time to act on your desire to learn how to fly fish for trout.
* Saturday, April 18 from 10:00 am to 3:00 pm.
* To be held at the Delayed Harvest section of Smith Creek, Unicoi State Park.
* Cost is $30 per participant. Don't forget to buy your fishing license!
Each lady participant will be paired with a fishing guide that will work with you throughout the day to learn the basics of fly fishing. Waders and rods will be provided.
The morning will begin with some casting demonstrations with your personal guide (if needed) then fishing until 1:00pm with your personal guide. Your guide will work hands on in the water with you. You will learn casting techniques, fly selection, reading the water, catching and releasing.
After fishing, from 1:00 until 2:30 enjoy fellowship with the other ladies and guides along with a great lunch and creekside fire.
When you sign up, we will get your boot and pant size so you will be fitted with waders and boots on Saturday morning.
This is a rain or shine event. There is no rain date should this event have to be canceled due to extremely stormy dangerous weather. If we have to cancel you will have first opportunity to sign up for our fall event.
For more info or to sign up email Michele Crawford at mcrawfordtu@windstream.net
February 3, 2020
PLEASE NOTE DUE TO CONCERNS ABOUT THE CORONAVIRUS PANDEMIC, THIS EVENT HAS BEEN CANCELED.
Mar 28 (Sat) Rabunite 101, An Introduction to Fly Fishing. 8:30 am—1:00 pm at Clayton Methodist Creative Learning Center, Clayton, GA. Contact Charlie or Kathy Briehaupt.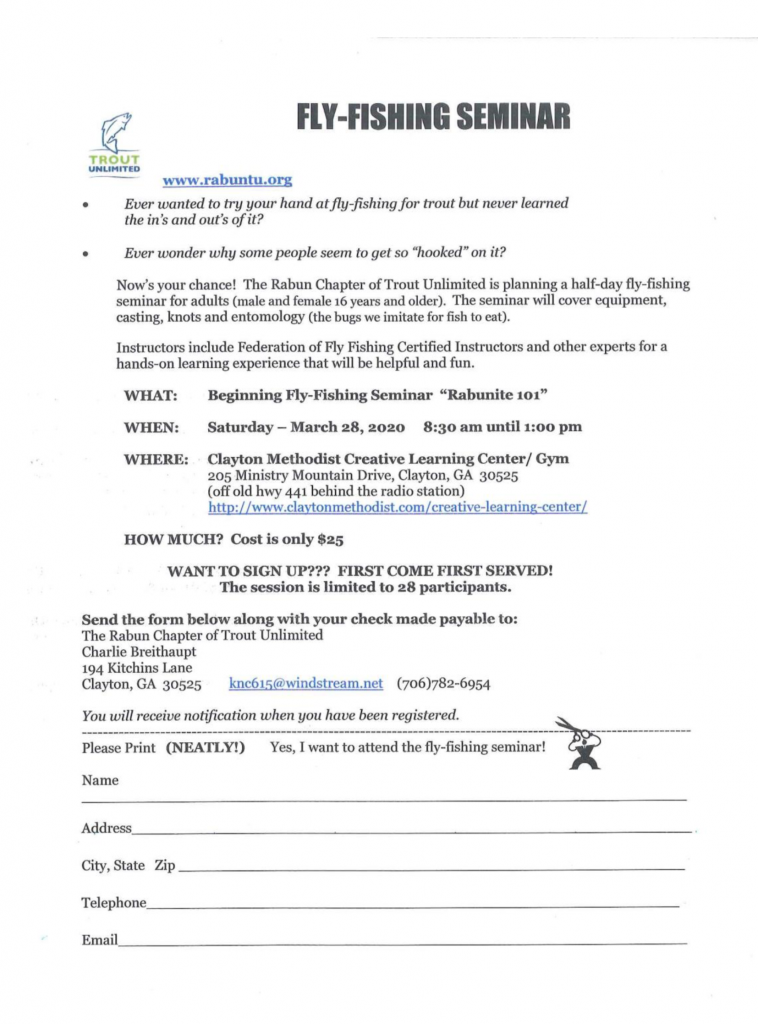 February 3, 2020
PLEASE NOTE DUE TO CONCERNS ABOUT THE CORONAVIRUS PANDEMIC, THIS EVENT HAS BEEN CANCELED
Mar 17 (Tues) Monthly Chapter Meeting. Presbyterian Church in Rabun Gap, GA. Contact Kent Wilson.
8397 Wolffork Road, Rabun Gap, GA Fellowship begins at 6:30 pm
Meeting begins at 7:00 pm
Meet the Warden: Ethan Franklin
The GA Department of Natural Resource's new Rabun County game warden is Ethan Franklin. He's got a great pedigree! A native of Habersham County, Ethan has done DNR tours as a brook trout intern for Leon Brotherton, a wildlife technician, and finally as a DNR Law Enforcement officer. And his mom, Shari, was Jeff Durniak's office man-ager.
Come and learn more about Ethan's hunting and fishing heritage, his com- mitment to conservation, and his desire to have your eyes and ears helping him to protect our natural resources.
We hope to see you there!
November 8, 2019
Applications are now being accepted for the 2020 Trout Camp!
Where: Tallulah Falls School, Clayton, Georgia When: May 31 to June 5, 2020 (Sunday – Friday) Who: Boys and Girls, 13-15 Years Old
Learn and Practice the Sport of Fly Fishing! Study Sound Conservation Practices! Enjoy a Fun and Rewarding Experience!
Mail your application (CLICK HERE) for Trout Camp to
Charlie Breithaupt, GA Trout Camp Coordinator 194 Kitchins Lane
Clayton, GA 30525
Deadline for applications is March 15, 2020. For more information, CLICK HERE.
September 11, 2019
Sept 14 (Sat) Rabun Chapter Mentoring of Boy Scouts. 8:00 am at Camp Rainey Mountain. Volunteers needed. Contact Steve Perry: flygide@gmail.com
May 14, 2019
June 15 (Sat) Tallulah River Kids Fishing Event. To be held at Tallulah River Campground from 8:00 am to 12:00 pm. Sponsored by the US Forest Service and the Rabun Chapter.
May 14, 2019
To be held at Tallulah Falls School. More information