April 13, 2015
Fly Rod and Sage Reel Raffle!
Winston 9-foot, 4-piece, 5-weight BIII-x
Boron/Graphite rod & Sage 3250 Reel
Raffle Tickets $3 each or 4 for $10
Drawing will be July 16, 2015, at the Rabun TU Chapter Picnic.
Tickets available at the monthly meetings, from Kent Wilson and other board members or swing by Crawford Art Gallery if you're in town and need tickets.
December 9, 2013
US Forest Service Southern Region Honors Georgians for work to Restore Brook Trout
Award recipients: Kevin McGrath and Alex Watson from Trout Unlimited; Jeff Durniak (Rabunite), Anthony Rabern, Lee Keefer, and Leon Brotherton from GA DNR; and Chattahoochee/
Oconee NF staff members Jim Wentworth, Jerry Wood, Mike Brod, David Vinson, Mike Joyce, and Mitzi Cole (now on the Ouachita NF).
The Georgia Back-the-Brookie Partnership was honored by the U.S. Forest Service Southern Region as an exemplary example of Partnerships and Community Engagement in Atlanta on November 7. The award was among 15 categories of exemplary employees and projects honored for their accomplishments and dedication in supporting the spirit and mis- sion of the agency in 13 southern states. Since 2007, the Georgia Back-the-Brookie Partnership has been working to restore native brook trout on the Chattahoochee National Forest. The Forest Service has worked closely with partners including the Georgia Council of Trout Unlimited and Georgia Department of Natural Resources, which have provided funding and other resources.
The Southern Appalachian brook trout no longer exists in much of its native range, and is only present at greatly reduced levels in Georgia. Through the partnership, biologists have a better understanding of remaining brook trout populations, and the species is more secure in the southern portion of its range than it has been in recent years. The Back-the-Brookie project has included intensive monitoring, genetic analysis, youth education, stocking of fish, and other practices to benefit native brook trout such as placing barriers to prevent non-native trout from invading the native trout habitat. To date, partners have improved 80 miles of 32 streams through the placement of large woody debris. Treated areas have increased adult trout by 37 percent and young trout by 17 percent.
"This alliance of passionate and dedicated people is making a real difference here in Georgia in the preservation of this important native species," said Chattahoochee-Oconee National Forests Supervisor Betty Mathews. "Anglers are some of our country's greatest conservationists, and we are proud to be seeing that in action here."
While a big brook trout in Georgia is about 7 inches, it remains popular for those wanting to catch a native trout. Through habitat enhancement work the partnership has increased brook trout fishing opportunities in Georgia. Contributions to the project by members of the Georgia Council of Trout Unlimited have also been recognized in Field and Stream magazine and by Trout Unlimited nationally.
Accepting the Partners and Community Engagement Award on behalf of the group at the Regional Forester's Award ceremony in Atlanta on November 7 were (L to R) Leon Brotherton, GA DNR; Jerry Wood, USFS; Betty Mathews, USFS; Kevin McGrath, Trout Unlimited; Mitzi Cole, USFS; Alex Watson, Trout Unlimited; and Mike Joyce, USFS.
October 16, 2013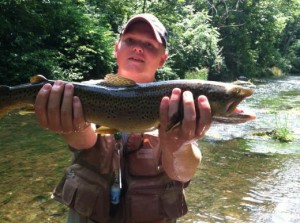 A big Rabunite Waaa-WHOOO! for Ethan Scoggins (Coosa Valley Chapter), whose essay was chosen as a runner-up in the Trout Unlimited NATIONAL Essay Contest!
Ethan wrote about his experience at Trout Camp, reminding us just how much camp can mean to a teen and of the healing power that we all find in rivers. "What an amazing, friend making, fishing, learning, good food eating week it was!" he writes. But he also reflects on the experience in light of his father's illness and heart transplant.
Read the essay on the TU national website.
Way to go, Ethan!
September 25, 2013
The Rabun Chapter is looking for volunteers to assist with daily operations at the Lake Burton Fish Hatchery.   Volunteers will perform manual labor work, such as grass cutting, trash pick up, and hatchery run cleaning.   Work will take place each Tuesday and Thursday.   If you are interested in volunteering, please download and fill out the  Background Check form and submit it to Charlie Breithaupt.