May 15, 2017
Today's Georgia Trout Campers are the next generation of conservation leaders.
Boys and Girls, 12 to 15 years old
Learn and Practice the Sport of Fly Fishing
Study Sound Conservation Practices
Enjoy a Fun and Rewarding Experience!
Camp Dates: June 4-9, 2017
Cost: $500 per camper
What will campers be doing? Here is the Daily Schedule 2016 and a location map for the 2015 Trout Camp stream restoration project.
What to bring to Trout Camp?
Trout Camp Mentors Application/Background Check process: 
Camp Mentor Application/Background check (Will be updated shortly)
Young Mentors (Trout Camp graduates ages 15-18): Young Mentor Application
Mail applications to:
Kathy Breithaupt, GA Trout Camp Coordinator
194 Kitchins Lane
Clayton, GA 30525
Deadline for applying: Set by each Chapter – Check with your local TU Chapter for details.
The application and payment must be in the Camp Director's office by April 15, 2017.
Each camper leaves with his or her own set of fishing equipment!
Closing ceremony in which campers receive a certificate of completion
Fly casting competition with awards presented at closing ceremony
What to expect at Trout Camp
Learning hands-on skills and trout fishing fundamentals
Knot tying
Attaching lines for specific needs
Stream tactics
Presenting the fly
Tackle
Handling and maintenance
Fly Casting
The basics and practice
Entomology
Bugs! Study insect life cycle, physiology, behavior environment, and classification
Fly tying
Create the flies that catch the fish
Fishing on the stream
Applying newly learned skills
At least two hours daily devoted to fishing
One mentor per two campers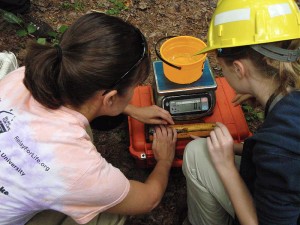 Stream etiquette
How we consider others and the environment
Natural Resources and Conservation
A visit to Burton Trout Hatchery and nearby creeks
The trout's life cycle
Aquatic invertebrates (more bugs!)
Protection of trout habitat
Stream Dynamics/Fish stocking
Work project to restore habitat structures
Particulars
Fees: $500 per camper
Includes a TFO, 9Ft., 5WT, Rod and Reel Outfit, Fly-Vest packed full of flies and other gear, Costa Del Mar Sunglasses, and much, much more!
Trout Camp brochure available here(pdf)
Room and board in the facilities of Rabun Gap Nacoochee School 
Application form available here (pdf)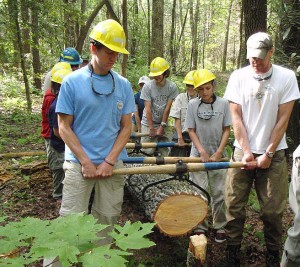 List of what to bring available here
Detailed Trout Camp schedule available here (MS word doc)
Who staffs Trout Camp?
Many TU members willingly volunteer their time and talent to pass on their knowledge and love of fly-fishing to another generation. Our camp is truly a statewide effort as mentors from 10 of the 14 chapters in Georgia show up to help out. Some mentors even take vacation from their jobs and stay all week; you can't ask for more than that!!
Georgia DNR and USFS personnel provide great support, including leading sessions on stream entomology at Smithgall Woods, visiting Burton Hatchery, stocking the Tallulah River, building structures on Ramey Creek and electro-shocking brook trout all added to the experience for the campers. Even in these tough economic times, these agencies still find a way to give us all the help we need. We couldn't do it without them. We have also welcomed guest speakers from the national office of Trout Unlimited as well as Jimmy Harris, local expert guide and owner of Unicoi Outfitters.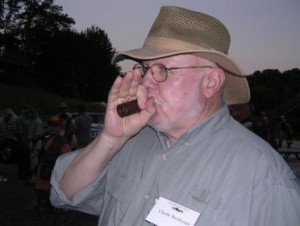 For further questions, please contact
Kathy Breithaupt – Trout Camp Coordinator
knc615(at)windstream.net
194 Kitchins Lane
Clayton, Georgia 30525
706-782-6954
Trout Camp Supporters
Georgia Trout Camp is grateful for the generous support of our partners and sponsors.
Would you like to be a Trout Camp mentor?
Want to mentor at the 2010 camp? We need your background check permission form.  Please read the TU National Sex Abuse Policy then download the mentor forms below. Sign both and fax to Charlie Breithaupt.
TU National Sexual Abuse Policy
Mentor Background Check form 2010 
Trout Camp Young Mentor Application and Guidelines
Also, you must be a member of TU to serve as a mentor. It's easy to join.
May 15, 2017
June 3 (Sat): Annual Kids Fishing Rodeo on Tallulah River starting at 8AM. We coordinate every year with USFS and DNR for the great event for the kids! VOLUNTEERS NEEDED! A great chance to help pass it on!!
May 15, 2017
May 27 (Sat): The annual clean up of Betty's Creek to get ready for Trout Camp. We start at 9 am and finish up around noon. VOLUNTEERS NEEDED!!! We will have a few light refreshments on hand.