October 16, 2013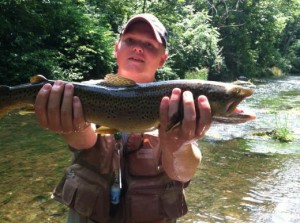 A big Rabunite Waaa-WHOOO! for Ethan Scoggins (Coosa Valley Chapter), whose essay was chosen as a runner-up in the Trout Unlimited NATIONAL Essay Contest!
Ethan wrote about his experience at Trout Camp, reminding us just how much camp can mean to a teen and of the healing power that we all find in rivers. "What an amazing, friend making, fishing, learning, good food eating week it was!" he writes. But he also reflects on the experience in light of his father's illness and heart transplant.
Read the essay on the TU national website.
Way to go, Ethan!