Tom Landreth Memorial Fund
Tom Landreth, 1932 – 2007
Tom Landreth Memorial Fund Chattooga Stocking Program
Gifted artist, avid fly fisherman, and beloved friend, Tom Landreth was a devoted and active member of the Rabun Chapter of Trout Unlimited for many years until his untimely death in 2007.
Tom joined TU in 1984 and became a charter member of the Rabun Chapter in 1986. For twelve years he served as newsletter editor, and he was chapter president in 1995 and '96, secretary for three years, and a director for four.
Tom was a well known and accomplished watercolorist and fly fisherman who loved painting area streams. He donated countless paintings to TU fundraisers through the years.
Knowing of Tom's love of trout fishing and the Chattooga backcountry, his wife, June, and their daughters, Lisa and Kelli, gave their permission to establish the Tom Landreth Memorial Fund at Rabun TU with all donations used to help pay for the Chattooga backcountry helicopter stocking program. What a nice way for the family to allow us to honor Tom.
As a small token of remembrance, each donor will be mailed 3 flies from one of Tom's fly boxes. Carry one of his flies with you when visiting those places Tom loved.
Please make donation check payable to Rabun TU
For: Tom's Memorial Fund

Mail To: Rabun TU, PO Box 65, Rabun Gap, GA 30568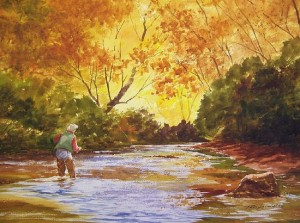 A special thanks to June for the generous donations of some of Tom's favorite things to the Rabun Chapter for the Rendezvous and beyond.
NOTE: The Landreth fund has grown thanks to your generous donations. The fund provides support for backcountry trout fishery management. In fall 2011, the US Forest Service firefighting helicopter, with ground support from the Georgia and South Carolina Forest Service personnel, delivered trout to the lower backcountry of the Chattooga North Fork. The trout that were stocked ranged in size from five-inch sub-adults to adults.
Due to Forest Service budget constraints in GA during the past 20 + years, TU in GA has had a "challenge cost share agreement" with the USFS. Anglers and the USFS split the helicopter costs 50-50. Currently Rabun TU's Tom Landreth Memorial Fund, GA TU Council, and the Atlanta Fly Fishing Club (AFFC)  contribute to deliver GA WRD's trout to the lower backcountry of the Wild & Scenic Chattooga's North Fork and West Fork.