Georgia's Delayed Harvest Streams
By Jeff Durniak, Georgia Wildlife Resources Division
Delayed Harvest (DH) is a popular management strategy designed to provide a high quality catch-and- release trout fishery from fall through spring, after which the stream is opened for harvest under general regulations.
Because each trout can be caught more than once, catch rates remain high over long periods of time. High catch rates are further assured by periodic restocking to replace trout lost to injury or natural mortality. These high catch rates are not only popular with seasoned anglers but provide an excellent learning opportunity for new anglers. Although anglers enjoy fishing DH streams with spinning or casting gear, most of the streams are wide enough that fly-anglers also favor them. An added benefit for DH anglers is that the streams are located in some of the most scenic parts of Georgia.
DH Fishing Regulations:
Anglers fishing delayed harvest streams must release all trout immediately and use and possess only artificial lures with one single hook per lure from November 1-May14 annually. The use of additional "dropper" lures on one line is permitted as long as each lure contains one single hook. These restrictions do not apply from May 15-October 31 of each year.
A valid Georgia fishing license and trout license are required.
Fishing Tips:
Many seasoned trout anglers share their trip reports and advice via internet conversations or club meetings. You may wish to look at North Georgia Trout Online (http://www.georgia- outdoors.com/ngto/) or the newsletters of several chapters of Trout Unlimited (http://www.georgiatu.org/) for the latest fishing reports, hot flies or lures, or the chance to make a new fishing friend. You can also assess north Georgia stream flows by visiting the U.S. Geologic Survey website (http://waterdata.usgs.gov/ga/nwis/rt) where you can find current information on stream flow from gauges on the Chattahoochee River in Helen and the Chattooga River near Clayton.
Carefully releasing the fish you catch will ensure that it will survive to be caught again by you or another lucky angler. Here are a few tips for successfully releasing trout:
• Play and land trout quickly. Tired, stressed fish don't survive well when released.
• Release trout immediately.
• Handle trout gently, keeping it in the water as much as possible. Unhooking the trout without lifting it from the water is best.
• Remove hooks with needle-nosed pliers or forceps.
• Using barbless hooks makes releasing trout much easier. If a trout is hooked deeply, cut the line and release the fish. The hook will eventually dissolve, leaving the trout unharmed.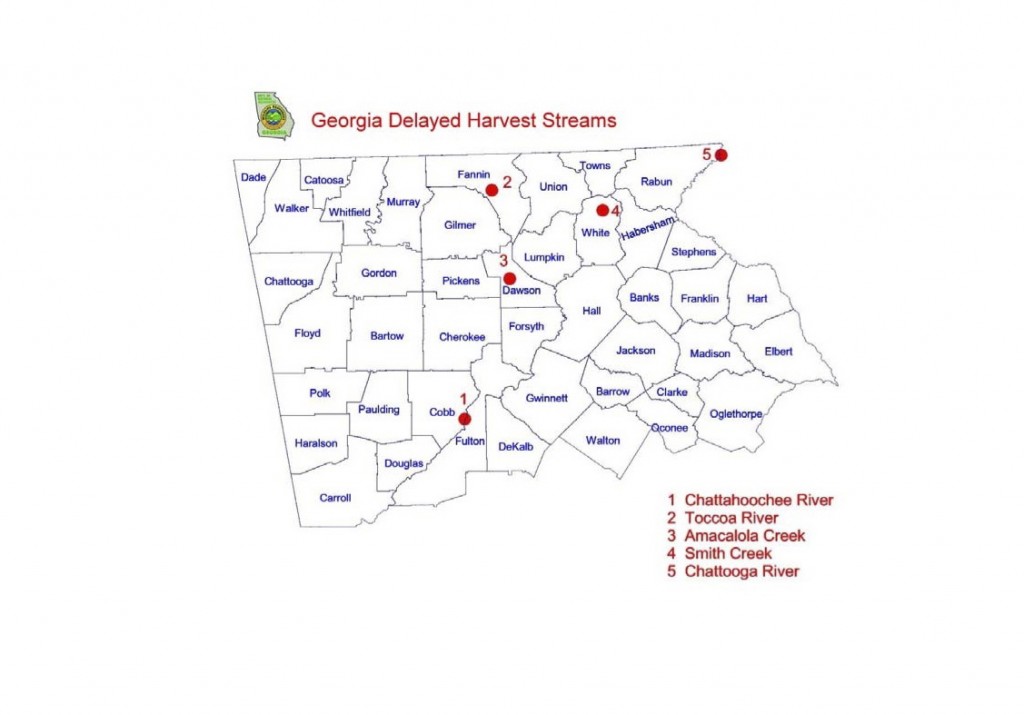 List of Georgia Delayed Harvest Waters:
Chattahoochee River (Cobb and Fulton Counties) from Sope Creek (off Columns drive) downstream to US Highway 41 (Cobb Parkway).
Toccoa River (Fannin County) from a point 0.4 mile above the Shallowford Bridge upstream 1.3 mile to a point 450 feet above the Sandy Bottoms Canoe Access.

Amicalola Creek (Dawson County) from County Road 192 (Steele Bridge Road) downstream to GA Highway 53.

Smith Creek (White County) on Unicoi State Park from Unicoi Dam downstream to the State Park property boundary.

Chattooga River (Rabun County) from GA Hwy 28 upstream to the mouth of Reed Creek. Detailed maps of DH streams are available online at www.gofishgeorgia.com under "Fishing" and "Georgia Trout Stream Information and Maps"
Click on maps to enlarge