Georgia Trouting Through the Seasons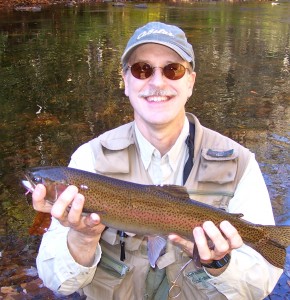 A. Flyfishing Best Bets
Spring (March – May)
Hint- #14 Adams or Caddis dry and a Prince dropper
1. Chattooga River – Rt 28 to NC line (Rabun Co)
2.    Smith DH (White Co)
3. Chattahoochee in Atlanta
4.    Dukes Creek (White Co.; reservations 706-878-3087)
5.    Waters Creek Comeback (Lumpkin Co; need WMA stamp)
Summer (June – September)
Hint- six foot rod and six foot leader, Royal Coachman trude, small wild rainbows!
1.    West Fork Chattooga – "Three Forks" tributaries
2.    Most national forest extreme headwaters (Hooch, Moccasin, etc)
3.    Noontootla (Fannin Co)
4.    Toccoa River tailwater below Blue Ridge Lake
5.    Dukes Creek in the mornings
Fall (October – December)
Hint- use light leaders with clear water; no fishing pressure; spawning browns.
1.    Seasonal headwater streams (open til 10/31)
2.    Upper Chattooga (follow the water temperatures)
3.    DH streams (ours open Nov 1; NC DH streams open Oct 1)
4. Chattahoochee in Atlanta
Winter (January- February)
Hints – long leader, split shot & eggs and buggers DEEP, 40F, fish the afternoons!
1. Chattahoochee in Atlanta(DH and up stream sections)
2.    Dukes Creek
3. Chattooga DH
4.    Smith DH (never muddy)
5. Toccoa tailwater (Feb caddis)
B. Flyfishing Supplies
1.    Unicoi Outfitters – Helen, Blue Ridge (great newsletter): http://www.unicoioutfitters.com/
2.    Reeves Hardware – downtown Clayton and Rt 441 Dillard (Rabun County)
3.    Lake Lanier Fishing & Outdoors – Cumming (Hwy 306/369) http://www.northgafishing.com/
4.    Bass Pro Shops – Lawrenceville (Hwy 85):
http://www.basspro.com/servlet/catalog.CFPage?appID=94&storeID=3
5. Fly Box Outfitters–Kennesaw: www.flyboxoutfitters.com
6. The Fish Hawk-Buckhead: www.thefishhawk.com
C. Kid-Friendly Trout Waters
1.    Smith Creek / Chattahoochee River (Helen Area)
2.    Dicks & Boggs creeks (Lumpkin Co)
3.    Wildcat Creek/ Moccasin Creek State Park (fish hatchery, kids catfish pond, nearby streams)
4.    Rock Creek (near Suches; USFWS hatchery)
5.    Amicalola State Park (Dawson Co)
6.    See "Northeast GA Fishing Guide" and trout stocking list at www.gofishgeorgia.com
D. "Catch Your Limit" Trout Waters
1.    Hooch – Helen and Buford Dam
2.    Tallulah River (Rabun Co)
3.    Dicks Creek (Lumpkin Co)
4.    Cooper Creek (Union Co)
5.    Blue Ridge Tailwater (Fannin Co)
E. Easy to learn:
1.    North Georgia Trout Online: http://www.georgia-outdoors.com/ngto/, then "message board" and "jump right in."
2.    New fishing friends/mentors with Trout Unlimited (http://georgiatu.org): chapters across Atlanta and north GA. Rabun TU has excellent newsletter with hatch chart (www.rabuntu.com).    Blue Ridge TU has great Toccoa DH fishing guide (http://www.blueridgemountaintuonline.com). Try a meeting, fishing trip, or campout.
3.    State park and hatchery loaner fishing pole program, education programs (http://www.gastateparks.org/). Check out "Get Outdoors Georgia" (http://www.getoutdoorsgeorgia.org/)
4.    April-June kids fishing events (www.gofishgeorgia.com, click on "fishing," then "take a kid fishing."
F. References
1.    GA fishing licenses cost $9 for annual resident license and $5 for trout stamp ($24 and $13 for nonresidents); available online (www.gofishgeorgia.com), at 1- 888-748-6887, and in local sporting goods stores. Kids under 16 – no license needed.
2.    GADNR (Wildlife Resources Div. offices, trout maps, list of stocked streams, Parks Division): http://www.gadnr.org/. WRD – Gainesville regional office: 770- 535-5498, Lake Burton Trout Hatchery 706-947-3112.
3.    U.S. Forest Service (maps, campgrounds): http://www.fs.fed.us/conf/ or call 770- 297-3000.
4.    Trout Fishing in North Georgia: book by Jimmy Jacobs: http://www.amazon.com/exec/obidos/ASIN/1561452432/103-8204175-6703026
5.    Georgia Outdoor News website: trout fishing page: http://www.gon.com/