Education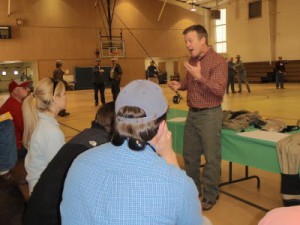 View the educational programs photo gallery
Click here for more about Rabun TU's education programs.
Rabunite 101
Rabun TU's Fly Fishing Seminar for Adults
For Beginners: A Rabunite 101 Primer
Periodically, the Rabun Chapter of TU offers "Rabunite 101," a basic introductory workshop for adults interested in learning the skill of flyfishing. Most recently, twenty participants were divided into four groups of five each. The four groups rotated through stations to receive expert one-hour instruction from local TU members in casting, knot tying, entomology, and equipment.
A basic book about the sport and a cookout after classes were included in the $30 fee for the half-day seminar. Sheila Humphrey, GA DNR wildlife interpretive specialist at Smithgall Woods, taught the classes on entomology, and her husband Dave, a Federation of Fly Fishers certified instructor, was the lead casting instructor. More than 25 volunteers from the Rabun TU Chapter participated by teaching knot tying, equipment and serving lunch to the participants.
Check the chapter calendar below right for the next Rabunite 101 seminar!
Trout Camp
Click here for more details about Trout Camp at the Georgia TU Council site.
Today's Georgia Trout Campers are tomorrow's conservation leaders.
Since 2004, the Rabun Chapter has taken a lead role in the Georgia TU Council's summer Trout Camp for boys and girls ages twelve to fifteen. The streamside, hands-on experiences offered at Trout Camp provide more than just casting and fishing lessons, they strive to fully educate youth about the complex issues behind the restoration and protection of our streams and rivers.
Boys and Girls ages twelve to fifteen learn and practice the sport of flyfishing, study sound conservation practices and enjoy a fun and rewarding experience!
Trout Unlimited awarded its national Youth Education Leadership award to Kathy and Charlie Breithaupt in 2007 for their work with Georgia Trout Camp.
Come to Trout Camp to
Learn hands-on skills and trout fishing fundamentals:
Knot tying
Stream tactics
Tackle
Fly Casting
Entomology
Fly tying
Fishing on the stream
Stream etiquette
Learn about natural resources and conservation:
A visit to Burton Trout Hatchery and nearby creeks
The trout's life cycle
Aquatic invertebrates (more bugs!)
Protection of trout habitat
Stream Dynamics/Fish stocking
Work project to restore habitat structures