Jan 30, 2016: Rabun Rendezvous RESCHEDULED
September 13, 2015
Where: The "New" Dillard House Conference Center, located behind the Dillard House in Dillard, Georgia
Who: The more the better. Everyone interested in protecting our cold water resources, including their families, friends, and all who love clean, cold streams, trout, and trout fishing.
Social: About 5 o'clock PM folks will start gathering to "pick the pig" and enjoy the rocking chairs on the porch of the Conference Center. There will be snack trays of cheeses, crackers, veggies with dips, and fruits. Soft drinks and ice will be available. If you want something stronger, better bring it yourself. (BYOB).
There will also be a fire inside to warm your buns. The Foxfire Boys with their famous bluegrass music will begin at 5 pm.
Dinner: Fish, chicken, and pork with all the side dishes and desserts that have made the Dillard House so famous will be served about t6:30. It's a serve yourself buffet, so you will not leave hungry.
Cost: $33 for adults, $25 for those under age 15. Cash, checks, VISA, or MasterCard. We don't do advanced tickets; just pay at the door.
Lodging:
The Dillard House has set special rates for rooms starting at $69 (plus tax) for those who call and tell them you're attending the Trout Unlimited Rabun Rendezvous.Call 706-746-5348 or toll free at 1-800-541-0671.
Check out the Dillard House website here
. Also Mountain Aire Cottages on North Main Street in Clayton is giving special rates for TU folks. Call them at 706-782-9568.
You can view their website here
.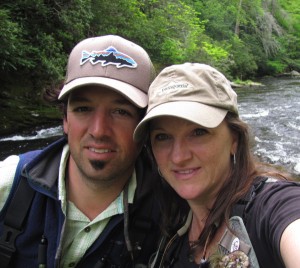 Program presenters:
Ian and Charity Rutter, R&R Fly Fishing. Ian and Charity are based in Townsend, TN. They offer premier guide services specializing in the Great Smoky Mountains and East Tennessee and have published five books on "Fishing the Smokies." They are great presenters and highlight their programs with beautiful photography and video. Come spend the evening with Ian and Charity.
Please click on the link here
to find out more about R&R Fly Fishing.
Comments